Our Mission
The Mission of the Lions Low Vision Center of Eastern Connecticut is to provide appropriate low vision devices and help to people with decreased vision to empower them to improve their quality of life or maintain their independence through awareness, resources, and solutions.
What Is low vision?
Low Vision is best described as insufficient usable vision to accomplish the task of daily living, even after conventional treatments such as medication, eyeglasses or surgery. These tasks can include reading, setting a thermostat, writing a check, seeing the dials on a stove, phone or appliance, or simply watching television.
Is Low Vision The Same as being Blind?
No! Blindness is the total lack of vision. Unfortunately, many people become confused because the government uses the term legally blind, and that term is often applied to people who have some usable vision. Because the word 'blind' is used to describe most legally blind people, they are often mistaken for someone totally without sight. People with low vision can use their sight, unlike a totally blind person. For someone with low vision, the degree of usable sight will vary from person to person. If you have sight and function as a sighted person, the recommendation is that the word blind be avoided in any form except where absolutely necessary for legal reasons such as government benefits.
What is the function of The Low Vision Center of Eastern Connecticut
The Lions Low Vision Center of Eastern Connecticut is staffed by a licensed optician who dispenses low vision Aids and trains individuals to use these devices which are designed to enhance remaining vision. The licensed optician will counsel families, professional staff, and clients, as well as employers. The critical components of good Low Vision care involve a comprehensive low vision evaluation coupled with proper dispensing and training in the use of low vision devices. Follow–up visits ensure that the devices are being used correctly, and serve to maintain liaison between the individual, the family, the referring ophthalmologist, and our low vision licensed optician. With ongoing support from the Lions of District 23-C and our clients, we offer these services to anyone who has low vision but is not legally blind.
How We Help
Our licensed optician works personally with each client to identify the challenges faced day to day. The licensed optician gathers information about the clients condition, including reviewing any medical data available. This interview process is one of the biggest differences between our services and other resources available to our clients. We do not focus on the clinical aspect of a clients condition. We concentrate on finding ways to help our clients overcome their challenges. We listen to clients when they tell us what is important to them and what they really wish they could continue to do. We want to help our clients not just tolerate their vision loss, but optimize their remaining vision to attain a level of enjoying life again.
Our licensed optician supplies devices to help clients. These devices range from magnifiers to lamps to large digit calculators and clocks, as well as a staggering array of practical real world tools to help clients maintain or regain their independence. The licensed optician also instructs clients in the proper use of these devices, and matches the proper devices to each client's individual needs. Our clients benefit from far more than just devices though. Our licensed optician introduces them to techniques and tools that are often simple, but never before mentioned to a client. Aids can be simple, such as a signature guide template to enable a client to sign checks or recommending the use of high contrast tools such as dark plates or dark bristle toothbrushes or simple floating markers to use as indicators when filling a glass.
Of course, more sophisticated equipment has also been supplied to clients, in some cases even closed circuit television based magnification devices have been made available. And it's not only about tasks- sometimes it's about enjoyment, as when a client is given large print playing cards to help them enjoy a pastime they thought was lost forever.
How is the Low Vision Center funded?
It is funded by donations from individuals, companies and the Lions Clubs of Eastern Connecticut.
Low Vision Center of Eastern Connecticut
860-377-2063
P.O. Box 43
Colchester, CT 06415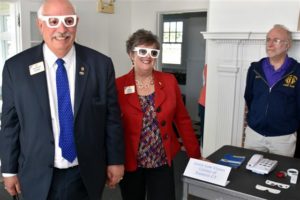 Lions Low Vision Center Liaison Joel Zuckerbraun introduces Lions Clubs International President Bob and Lion Dianne Corlew to the effects of macular degeneration in Groton on their Lions Centennial Bus Tour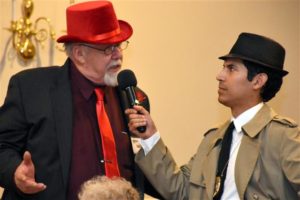 LLVC President Skip thinks on his feet as he gets interviewed by Detective during this "fun"draiser!
(click here to see more photos)